"You mistake us for a rich family," my ever-sensible spouse has said more than once.
He's right. I do live in the lap of luxury.  Perhaps more so in my mind than in real life. But still, the older I get, the more easily I am lured into luxury's lascivious labyrinth .
Unlike my easily-contented spouse, when it comes to vacation, I aim for high-end resorts with pristinely clean, over-sized rooms. I get giddy when I discover white comforters encased in sheets that get laundered after each and every guest. I feel joy when big, fluffy bath towels successfully cover my ample physique. And when the housekeeping staff generously replaces the Bvlgari soaps that I sneak into my suitcase, two somewhat conflicting thoughts come to mind. The first is "This is where I belong." And the second is, "Sadly, the cost of my personal comfort is way more than I can afford."
When I was young I could, and did, sleep anywhere. I slept in cars and on beaches, on beer-stained couches and cold, hard living room floors. But, as I get older and more miserly about my sleep, I get more and more discerning about where I'll lay my head.
While I live in a very comfortable, very welcoming, very lived-in house, when I go away I want the complete opposite. I want white, sterile and impersonal.
Which is one of many reasons it took me 21 years to get back to Lake Mokoma.
Charlie and Beth are very dear friends of ours. But physical distance, conflicting schedules, too many cruises, and just plain life have gotten in our way and we haven't socialized as much as we should have over the years. Luckily, Charlie has mastered the lost art of the phone call and has always kept us connected.
Charlie and my spouse grew up together outside of Baltimore. Charlie was a groomsman in our wedding who, at the rehearsal dinner, asked me to bless the sacrament of the Wildwood Blowout with a promise to never birth a child or in any other way prevent my spouse from attending this annual guys-only weekend.
Twenty-one years ago we spent a weekend at Charlie and Beth's lake house in Laporte, Pennsylvania along with Carol and her husband Bart, who also grew up with my spouse and Charlie. We each had two kids at the time and I was newly pregnant with the third. I remember chasing toddlers, peeing constantly and not a whole lot else except that it was indeed a rustic cottage overlooking the lake. But, I'm sure we had a lovely time because they're all lovely people.
I prescribe heavily to the somewhat debilitating theory that my dear, dead dad taught me. Always expect the worst and you'll never be disappointed. So, in preparation for this year's trip to the lake, I convinced myself that my spouse and I would be crammed together in a lumpy double bed in the middle of a 90-plus degree heatwave with owls hooting after midnight and loons crooning before dawn, holding me hostage from my coveted sleep.
We arrived at the lake following an uneventful three-hour drive. We hugged and kissed and settled in on the deck for a long and leisurely lunch during which we caught up on the goings-on of our over- and under-achieving offspring. My spouse took to his bed for an afternoon nap, I stretched out on the lounger and we whiled away the hours until it was time for the "Magical Mystery Tour."
Now, I'm not one for mysteries, magical or not. I need to know precisely where I'm going and exactly what I will encounter. I am quite vocal about this and it's normally a non-negotiable. But, because Charlie and Beth haven't spent much, shall we say, quality time with me, I decided to internalize my anxieties and limited my questions to, "Can I bring my phone?" and "Am I wearing the right shoes?"
Once we hopped into their Honda Odyssey, a minivan that rivals the old minivan, I felt as at ease as I get. We started out driving through the stoplight-less Sullivan County countryside and found ourselves winding our way up, up, up a mountainside with a very steep, steep drop off. When we reached the top, we posed for pictures that didn't do the breathtaking view of the Endless Mountains an iota of justice. But, as I learned on my last cruise, that while every picture tells a story, the true essence of an experience can only be captured in the cameras of our souls.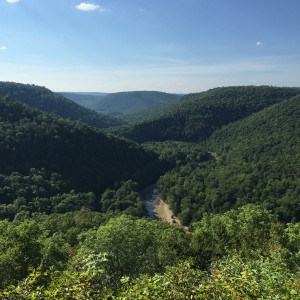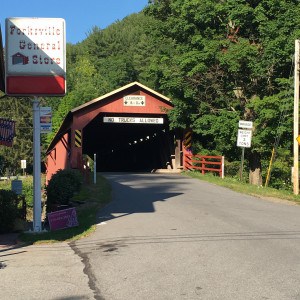 After being wowed on the mountaintop, we traveled through a one-lane covered bridge, stopped at a genuine general store and landed at the High Knob Inn, a hidden hole-in-the-wall restaurant I would never, ever have entered on my own. We had a delicious feast of wings and ribs and salads and drinks but what was most fun of all were the stuffed animals adorning the bar. They were big and real and nothing like those I remember from Chuck E. Cheese.
After dinner we hit the links for a $5 mini-golf game under the sinking sun. I was the big winner and proud as a Spieth. I patted myself on the back with a gihugic chocolate chip cookie dough ice cream cone, even though I'm not eating carbs.
Cruise ship entertainment can't hold a candle to this kind of throwback fun.
And it kept getting better. In the morning we took a three-mile hike around the lake, crossing the dam, poking around at the beach, fantasizing over which houses-for-sale would one day be ours and stopping to chat with every person we passed. We went to the Laporte Fireman's Carnival at night time where I met, in the flesh, one of Sullivan County's claims-to-fame, a real live American Idol contestant.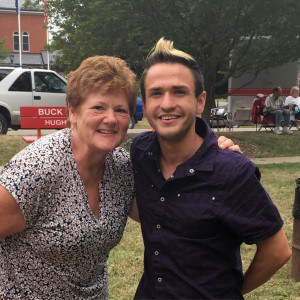 While the guys volunteered at the roulette wheel, Beth and I played Bingo for a quarter a card, using corn kernels for markers. When I got Bingo, I donated my winnings back to the fire department. All two dollars of it.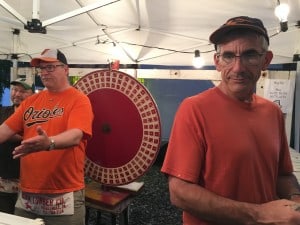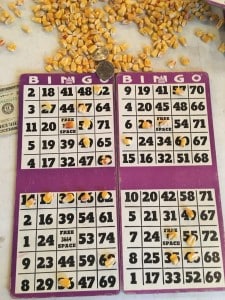 After the carnival, and a plate of sausage and peppers, we went back to the house to host a dessert party.
Charlie has been coming to the lake house ever since was a wee lad and knows just about everyone there is to know. Generations of Lake Mokomians grew up summering at the lake and then went on to raise their own children there. And a good many of those fun-filled folk showed up that night to eat, drink and reminisce.
Charlie's brother, Tim, came along with his bride (and my new best friend), Mary Jo. They met at the lake many moons ago and their son carried on the tradition, marrying there last fall. Then there was Pete, whose father was a preacher man just like Charlie's, bringing spark and stories after a cross-country trek with his wife, Camille, and their 19 year-old son. Along came Doug with his jokes and his lovingly outrageous wife, Erin (my other new best friend) who motored in from Chicago with three of their five dogs and a bunch of skiffs in tow. And crossing the path from right next door came the very personable Kathy and Dave, who happen to live the rest of the year on Cape Cod.
"Aren't there pretty places to go in California?" I asked. "Why would you leave Cape Cod for a little lake in Pennsylvania? Surely, there are some vacation locations between here and Illinois!"
But they all had the same answer. "It's just not the same."
Now I can have as much fun at a hokey carnival in Pennsylvania as dancing the hokey pokey on a cruise ship. I can play Bingo in Laporte or I can play Bingo in Bermuda. I can be awed by the peaks of Pennsylvania just as I can appreciate the summits of St. Thomas.
But, they're right. It's just not the same.
In my short visit to the lake, I learned a thing or two. I learned that there's nothing like vacationing with friends you've known so long they may as well be family. And that there's something about waking up and throwing on the same Orioles T-shirt two days in a row, knowing that no one's going to notice. Not worrying if the wine spills on the floor or the cat hair gets on your clothes. I learned that there's something about teenagers who look you in the eye and actually care where you came from simply because you're a friend of that middle-aged man who they've known forever. About making do with what you have and not panicking that you forgot the vanilla ice cream. About meeting  lifelong lake friends who embrace you like you're one of their own.
Because you kind of are, just by association.
When you spend time with salt-of-the-earth kind of people, somehow your duct-taped minivan isn't quite so embarrassing. Your washed-and-worn shorts don't seem quite so faded. Your stomach doesn't feel quite so flabby. Your face doesn't look quite so wrinkled. Your wallet doesn't seem quite so empty.
But your heart. Your heart feels like it's bigger than ever.
And maybe, just maybe it is.
I probably won't ever own a lake house, but that doesn't mean I can't rent one.
And when I do, I know exactly where to go.
** And just an aside, that lumpy double bed I dreaded was actually a queen and so comfortable that I ran off to Sleepy's upon our return and ordered the same one for my beat up old house that suddenly seems perfectly adequate .