"Hey family!" the daughter's group text began. "You have 4 months to each save $1,000 for a family trip to Iceland! Woohoo!"
"Sounds great," I responded, just because it's rude not to.
"I'm serious. We leave June 1."
And that was the end of that.
Like my friend Jean, I really, truly believe in the Family Vacation concept. There's nothing like transporting a family of five across state lines, through the friendly skies or over distant seas, all for the purpose of reconnecting, relaxing and recharging. With the very same kids who weren't able to exist in the same room together for more than three minutes. Sometimes. two. Any longer than that, the jabbing, jostling and blood-curdling screams kicked in.
But, we did it anyway.
First, we did the shore thing. For several years in a row, we rented a house in Avalon, New Jersey for a week. We packed the old minivan, which was rather new then, with playpens and high chairs, baby bottles and bouncy chairs, bicycles and beach umbrellas and drove the 2 ½ hours to the beach, a not-so-happy place for me. I detest sand as much as my spouse adores it, so it being relatively early in our marriage, we compromised. I did the nap and dinner duties and he dealt with the sunscreen and screamers.
Later, we did the lake thing. We rented a townhouse, with a really cool sleeping loft, on the Canadian side of Lake Memphremagog. We spent the week riding bicycles, eating croissants, going to an Expos game and reveling in a walk-in closet bigger than my bathroom at home.
And, finally, we did the mountain thing. We rented places in the Green Mountains of Vermont, the White Mountains of New Hampshire and the Catskill Mountains of New York. We hiked and biked and swam in cold, clear lakes. We went to Ben and Jerry's, the Trapp Family Lodge and a state fair at which we watched pig races, ate funnel cake and speculated on how our kids would do as 4-H members.
When you're not a rich family, have three strong-willed offspring, one easy-going spouse, and one mother like me, renting houses can suck the life out of any vacation. Yet, I loved our family vacations, despite the weeks-long prep lists, the days-long packing, the hours-long car rides and the filled-to-the-gills minivan with overflow in the rooftop carrier.
And there's a good chance we'd still be doing it today if it weren't for our vacation back in 2006.
We had just moved into our new house and had a false sense of financial security. Money was moving between mortgages and we somehow got a free month of living, or so we allowed ourselves to believe. We've long since learned that they get you on the backend, and the front end and on every end in between. And so, I won the "This might be our last chance!" argument and we went on a family vacation to Jamaica.
But, this wasn't just any little romp in the woods of a family vacation. This was a fly-to-Montego-Bay, all-inclusive, no-cooking, plenty-of-drinking, hanging-by-the-pool, spring-break, resort kind of family vacation.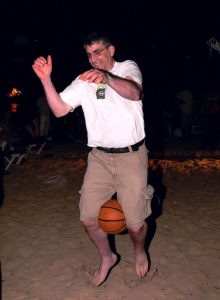 And, the cherry on top was not in the umbrella-drink, though there were plenty of those, but in the friends we recruited for the fun.
We somehow convinced four other families that for them as well, it may be their last chance to take the ultimate family vacation. And so we went, five families, with a total of twelve kids ranging in age from 6 to 14.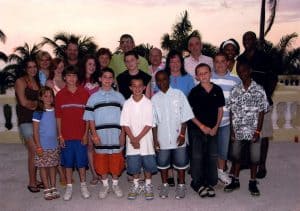 The kids ran loose. The parents got loose. We played games on the beach. Cards on the deck. And had family dinner every night under the Jamaican skies. We respected the sun. We drank somewhat responsibly. The 14 year-old girls were unexpectedly civil.  The boys expectedly independent. And we only lost the six year-old once.
Ya think for a minute my kids would ever want to go away with "just us" again?
And so the era of the Voreacos family vacation came to a screeching halt.
Along came the bills and baseball. Cheerleading and football. College visits and summer camps. Summer jobs and summer courses. Tryouts and tuition. Graduations and gravitations, to cities far and wide.
And while that fun-filled, multi-family vacation is now nothing but a fond memory, there's always hope that we'll do it again. The Santostefanos always ask if we want to vacation with them in Cape May and the Hargraves truly believe that one year we'll give in and join them in the Caribbean. But, instead, I end up on a cruise with my girlfriend. My spouse goes on a mission trip to some unairconditioned world. The daughter goes trekking through Thailand. The boys go mountain climbing in Colorado…
I think about Jamaica a lot, not just for the fun-in-the-sun, but for the seize-the-day, spend-the-money, just-do-it-ness of it all.
Because sometimes, you've just gotta throw it all to the waves and jump in.
Speaking of which, anyone interested in a trip to Iceland in June?