There's always one.
That simple statement. That obvious observation. That epitomizing epiphany that encapsulates and validates the reasons why you feel compelled to spend money you don't have, consume calories you can't afford and belt out easy listening-lyrics at piano bars with people you don't know.
And sometimes it's a conglomeration of uh-duh's that confirm what you've known all along.
When we turned 40, I gathered a dozen buddies for a Break-from-Babies trip to the Bahamas. At 45, ten of us Made Mischief in Mexico.  At 50 and 55, we were way too busy, way too poor, or way too foolish not to go on an epic excursion. At 60, I said enough is enough, and bullied them back into submission.
Last week, eight of us rallied for a four-day Celebrate Your Sixties sitcom in New Orleans. We all went to Shippensburg State College, a school in the middle of nowhere that once it got rid of us, elevated itself to a university. We all grew up in Pennsylvania and all have our stories of how we ended up at Shippensburg, as well as how, when and why we left. We have long since dispersed and now hail from North Jersey, Atlanta, Nags' Head, Boston, Denver, Florida and two different towns in Pennsylvania. But, college roots run deep and our friendship has persevered for the last hundred-and-fifty years.
My namesake, Betsy, flew in from Boston. She detoxed every morning on the treadmill, while the rest of us felt that a meandering six-mile trek through town was more than sufficient to count as exercise. As we popped  ibuprofen and Celebrex and multi-vitamins in futile attempts to tame our aching bones, backs, hands and hearts, we collectively marveled how, "at her age," Betsy's knees were still fully intact.
"I run because I still can," she said, knocking on wood.
When I graduated from college, I took a Trailways bus to Arizona to spend the summer with Ann. We went on tons of side excursions, one of which was to Las Vegas. For Christmas the following year, she presented me with a Golden Nugget silver dollar mounted in a shadowbox. You'll always have one more silver dollar, she said, just as Gregg Allman had. Ann is generous, is always the first to pick up a tab and refuses to let money rule her life.
The morning after a 12-hour stint in back-to-back-to-back bars (including, but not limited to, aforementioned piano bar with my new best friend from Charleston), we got to giggling and gasping over crumpled receipts.
"Who cares?" Ann said, sagely. "It's only money."
Jeanne gets a kick out of life. But, and note the but, she doesn't drink. At least not like the rest of us. I may be overestimating if I say she had three drinks in four days. Jeanne laughs loudly. Talks boldly. And remembers every minute of every minute we forget.
"You sure you don't want a drink?" we coaxed.
"Nope," she said, tossing dollar bills into the piano player's tip basket between American Pie and Brown Eyed Girl. "I really don't need one. It's enough for me just to be with you girls."
Kathy, on the other hand, knows that liquor licks wounds, warms hearts and wins hospitality awards. She had a bottle of Tito's, a bottle of Maker's Mark, limes, lemons, ginger ale and buckets of ice waiting poolside when I finally Ubered my way to the hotel. She upgraded her room to a suite so we'd have a place to pre- or post-game. And was never content to sit in one spot for hours on end.
"There's just so much to do. So much music to hear," she said, grabbing Sue and whisking her off to the jazz clubs on Frenchmen Street while the rest of us sat and sat and sat some more listening to background music, eating overpriced cheese platters and drinking copious amounts of wine at Bacchanal, an outdoor bar in the Ninth Ward, filled with kids half our age. And younger.
Sue has long been the friend to whom I turn when I need reassurance. No matter how bad, no matter how wrong. She will always find the light. She will never, ever place blame. Find fault. Or wish away what we've got. And so, naturally, I glommed (my new favorite Kathy word) onto her as we zig-zagged our way through the Big Easy.
"You think …?" I started.
"Stop. Relax," she said, in a completely different tone than the 'relax' I get from the daughter. "Everyone is fine. Everyone is having a great time. We always do."
And we were, indeed, having a great time. So much so, that the next morning I said to my cellmate, Ann, "When I think back to last night, I find myself alternately shaking my head with shame and cracking myself up."
"That's what makes it a good night," she responded wisely.
Speaking of which, the daughter, who has lived in New Orleans for four years, was wise enough not to get too deeply involved with us. We met her amazing roommate, Tonia, at dinner one night and her ultra-lovely friend, Kate, for brunch.  Jill, who can procure a free meal for an entire restaurant when one poor soul has been served raw chicken, is the only one of us with a grandchild. At least that we're aware of. The daughter, mine, not hers, is currently in flux over where to live, what to do and whether life is about to pass her by.
"One thing I've found," Jill said in earnest. "Is that things come at you in the most unexpected ways. Don't worry about boys or jobs or money. Just let life happen."
On our last night, after barreling into a fairly subdued restaurant where Kate's husband was bartending (we identified him from collective memories of wedding pictures on his wife's iPhone), we hoofed it back to the hotel. Or hobbled, as the case may be. I have aching knees on the best of days, but that was not the best of days. I had awakened to an additional shooting pain down the length of my leg. I thought walking would be the best remedy, but found myself limping along like Tiny Tim. (Not the one who tiptoed through the tulips. The Dickens' one.) I shooed my friends away, assuring them that I wouldn't get mugged or fall down, or cry, preferring, as always to play the martyr. Peggy, who suffers from Reynaud's Disease, which means that among other nasty symptoms,  she is always cold, shivered beside me.
"Go, Margaret," I said. "Honestly. I am fine. Catch up to everyone else."
"I will never leave you," she responded.
And, before we knew it, another adventure had come to an end. We said our good-byes with lumps in our throats and promises to do it again soon. And, we will. Because each and every one of us had a really good reason why we should continue to spend money we don't have, consume calories we can't afford and belt out easy-listening lyrics at piano bars with people we don't know.
Because we still can.
Because it's only money.
Because it's enough just being with the girls.
Because there's so much to do. So much music to hear.
Because we know how to have a great time.
Because we shake our heads with shame and crack ourselves up.
Because we never know what life will throw us.
Because we will never limp home alone.
Laissez les bons temps rouler!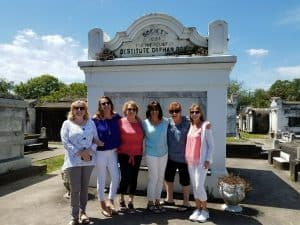 Forever and ever, Amen.