"You're having BOTH done at once?" I have heard twelve-dozen times since I scheduled my long-overdue double knee replacement.
"Uh, yeah," I say, with an uh-duh tenor to my retort.
I know that if I did them one at a time, it would be another decade before I'd go back to get the second one done.
It's not that I'm afraid of surgery. After all, I've had three c-sections, one hip replacement, one gall bladder extraction, one hysterectomy, two mastectomies, two reconstruction surgeries, not to mention one ICU-bout with pancreatitis, one cataract surgery, one dental implant, three root canals, one infected bunion, and countless other un-countable conditions.
My friend, Laura, saves emails. She recently forwarded me what may have been the first documentation of my knee issue. I had just returned from an orthopedist who confirmed that I had not one, but two bone-on-bone knees. Ten years ago.
In the decade since, I have done everything possible to avoid the surgery. I dropped enough poundage to ease the pounding pain and have managed to ride my bicycle over 1000 miles a year, walk circles through parks and towns, swim miles of laps, attempt yoga, cheat in spin class and lift weights. Very light weights. And, I have said 10,326 times a year, for a total of 103,260 utterances, "Oh, my aching bones."
I've done physical therapy, gotten shot up with chicken combs, tried expensive topical creams, over the counter pain killers, prescription anti-inflammatories, CBD products (legal ones, of course), and both cheap and expensive bourbons to keep my knees alive.
Last month, in search of the anti-diagnosis I went to yet another new doctor. I explained that I would be spending the summer working on a food truck, standing on my feet for up to 12 hours a day and was wondering if I could get cortisone shots to get me through.
The good doctor smiled and said, "Tell me more about this food truck." And, so I launched into all the fun and joy it brings, thinking he had genuine interest in the ups and downs of my food service career.
He smiled again.
And then said something on the lines of, "Considering the deteriorating condition of your mind, body and soul, did you ever think it might be prudent to get your knees replaced sooner than later?"
Hmm. Interesting question.
My friend, Kathy, had her knees (plural) replaced four years ago and it changed her life. About 3 ½ years ago she gave up trying to convince me that it just might change mine as well.
My spouse used to corner my friends and beg them to persuade me get my knees fixed, knowing I was more likely to listen to them than to him. It wasn't until I threatened to make him go on a cruise with me that he finally retreated.
Last year, when visiting my sister, Nancy, in Charleston we took her Prozac pooch, Otis, for a stroll through the neighborhood. Among other exciting topics, I told her how good my knees were feeling. Later, when I did the backwards shuffle to get into the passenger's seat of her car, manually uncreaking the left knee, dragging the right one in behind it, whooing and sighing until I was in position, she simply looked at me and said, "You're right. Why would you rush into getting your knees replaced?"
While in Maine, unable to do the annual cliff walk past Homer Winslow's house, unable to tolerate Portland's cobblestoned pavements, unable to navigate a simple trip to Walmart, my friends said, 'enough is enough,' deposited me in a wheelchair and pushed me through the store.
My friend, Grace, who I walk with, and one of the kindest people I know, looks at my limp and my bow-legged in the same direction knees, and wonders with sympathy and confusion, why in the world I would choose to live this way.
So, no. It had never crossed my mind to get my knees replaced.
I was born defective. I spent the first nine months of my life in a hard cast that splayed my legs apart to re-socket my dislocated hip. By the time I hit my 40s, that quick fix wasn't so much of a fix anymore. I was (once again) bone-on-bone in the left hip. Which means, of course, no cartilage and tons of pain. So, I got the hip replaced.
While in the hospital, I had a nurse who rolled her eyes so blatantly every time I rang the bell that I finally asked her, yes I did, why she chose this particular profession. She laughed and admitted that she hated being a nurse and was in night school, studying to become an accountant.
I went to rehab for ten days following the surgery. Even my insurance provider knew it wouldn't be the smartest idea to send me home to five, seven and nine-year-old children and a big barking dog. While in rehab, or perhaps while at the hospital, (culpability denial), I contracted C-Diff. Google it. And multiply it by 100. That's how pleasant it was.
Between trips to the bathroom, I did my physical therapy. I was young. Oh, so young. And, was determined that no one 40 years my senior was going to outdo me. I excelled at PT. But, while panting through my ankle pumps and abductor slides, I watched grown men crying real tears as they tried to bend and stretch their brand-new knees.
"Knees are a thousand times worse than hips!" my therapist admitted.
I stored that information in my brain.
In rehab, I was in a room with five other people. One was a thirty-something woman who had been paralyzed in a skiing accident. One was rehabbing a reconstructed shoulder. And one was a 60 year old woman who, in the prime of her active life, suffered a stroke. She didn't lose her speech or cognitive functions, but the left side of her body needed a lot of work. When I checked out, Marcia presented me with a fake red rose.
"Remember," she said with a right-armed hug goodbye. "Hope springs eternal."
On my bulletin board, amidst pictures of Jamal as a baby and as a graduate; Anthony as a baseball player; the girls in the back room of The Post; Patty, Madge and I laughing our fool heads off on a cruise; my favorite birthday card from Margaret; and a tear-off French calendar entry from Emily that translates to "My sister is stronger than I," that red rose dangles. And, has dangled for 18 years.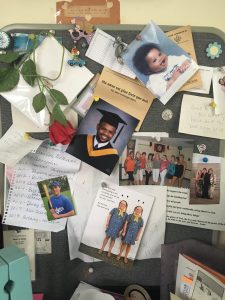 Now, on the cusp of going under the knife once again, I look to that red rose and remember to put it all into perspective. It's not cancer. It's not an amputation. It's not brain surgery. It's nothing more than getting two more bionic parts implanted into my body. It won't be pretty, and it won't be pleasant. But I have full intentions of dancing with my walker at Michael and Kristen's wedding in July and climbing the Rockies with the Chapel Hill gang at Lauren and Rob's nuptials next fall.
After all, hope springs eternal.
And if nothing else, I've got high hopes.