"Could you imagine how much fun it would be if he and I actually got married?" I conspired with my friends Pat and Nancy in the corner of the third-floor hangout room at Donald's Fishtown apartment.
"I bet you will," said the ever-omniscient Nancy.
I looked over at my longtime buddy, recently-turned beau and imagined our life, surrounded by these same friends, decades hence. I felt a little surge in my soul, knowing with all certitude that with no other group of friends would we ever share our hearts in quite the same way.
Our friendship took root in the early 1980's at TV Guide magazine. Half of us worked there and the other half were significant others or friends of friends. While TV Guide meant no more to us than a meager paycheck, the real payoff came with the friends that lasted long after the last of us left the magazine job behind in Radnor, Pennsylvania.
For several years when we were in our twenties, a dozen of us rented a house in Brigantine, a benign beach town in New Jersey. Brigantine's appeal lay in its relaxed liquor laws and convenient location, quietly nestled just a bridge away from the Atlantic City casinos.
But we didn't care about the casinos. We had everything we needed right within ourselves.
Ourselves were an eclectic sort. Some of us were trying to figure out what we were going to be when we grew up and some of us already knew. We were an environmental lawyer and two public defenders-in-training, a perpetual student-eventually-turned-professor, a couple of journalists, an entrepreneur, an artist, a gossip columnist, a druggie (in the working for a drug company sense of the word), a techie and a salesman who spent those summer weekends together, more often than not, sleeping four or more to a room.
Because it was always more than just us. People came and went as they tend to do when they know someone with a beach house. Friends of friends were always welcome as long as they paid their rent – a case of beer per night. It was the best of times, those Brigantine days – toting coolers to the beach at noon, preparing extravagant barbeques at dusk and playing Hearts until dawn.
We took our card playing seriously. In the game of Hearts, you can take all the tricks you want, but the real trick is to not take any points. Or, you can Shoot the Moon and get all the tricks, which in turn, gives everyone else at the table all the points. You have to be on constant lookout for the Queen of Spades who is evil, unless you are indeed Shooting the Moon. When she is unloaded in a trick, she usually hits the table with a loud "Boom!" followed by a lot of hooting and affectionate chiding over who took the "Bitch."
Every night after the coals turned to gray in the trusty and rusty Weber grill, we would gather on the screened-in porch, drawing numbers from a straw hat to determine playing and seating order. We rotated in and out of the game, in a mathematically-orchestrated fashion to keep an even playing table. We always had two decks shuffled and ready to be dealt, kept meticulous score on scraps of paper that were later immortalized, filled ashtrays with Marlboro Light butts and swept peanut shells from the sticky, floral-printed vinyl tablecloth.
For five, six, seven or more hours, we'd play hand after hand of Hearts, universally marveling over how many cases of beer we managed to consume each and every night.
It's been more than 30 years since our Brigantine beach days. As Nancy predicted, I did marry that buddy-turned-beau. We all grew older and did what people do. We worked, we raised families, we got sick, we got better, we buried parents, we got fat, we got thin, we got gray then dyed it away. And we all managed to make it to middle-age relatively unscathed and pretty much unchanged.
We may not drink and gorge like we once did, but we all still play Hearts.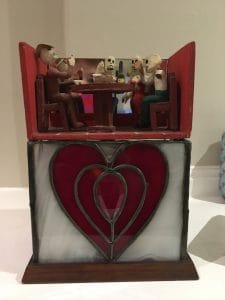 Every year, some configuration of the original 12 gets together to play Hearts. We have turned it into a tournament, complete with a Winner's Trophy, a wooden Day-of-the-Dead shadow box from Mexico, with skeleton figurines playing cards and a stained-glass base that our resident artist added for appeal. Inside the box, we keep all the score sheets from all the games we've ever played, including start and end times. Whoever wins not only keeps the trophy for the year, but has the privilege of hosting the next tournament. Hosting responsibilities include providing two card tables, new decks of cards, a half-time feast and beds and breakfasts for all those who spend the night.
Nowadays there's no more playing-till-the-sun-comes up, and though we still manage to make our way through several cases of beer, they're IPAs and microbrews rather than Rolling Rock pony bottles. And some of us actually play the game completely sober because we drive home to let the dang dog out.
We've always been a diverse group in both personality and proficiency. Some of us will always care about the outcome of the game. Some of us will care more about the food that is served. Some will care about the size of the print on the cards. And some will care about the kind of table on which we play. Some of us will care about what time we start. Others will be more concerned with what time we finish. Some of us will know exactly how many hearts have been thrown. Some of us don't even know how many hearts are in a deck. Some will count cards and tricks and know who is holding onto what. And some of us will never have a clue. Some of us (ah-hem, Donald) will always gloat, and some of us are just as happy to lose.
Last Saturday afternoon, when we convened at Bob's house in Narberth, Pennsylvania for the annual Hearts tournament our age began to show. Some of us were not so quick on the draw. Some of us found it harder to converse and concentrate at the same time. And some of us even went an entire round dealing the cards counter-clockwise.
But we played on. Because it's what we do.
There are those who marvel at some of the friendships I've kept alive throughout my life. They wonder how it's humanly possible to stay in touch in touch with so many friends who live such different lives in such different places.
But, really, there's nothing to it.
You simply follow your heart.