Of all the gin joints in all the towns, in all the world, she walks into mine.
I often marvel at the randomness of life. Had I not made that last-minute pit stop at TV Guide magazine to drop off my resume, I would never have met my ever-loving spouse and would quite likely have lived my life out as a spinster. Or at the very least, be married to a man who didn't understand my need for a yearly bender with my friend, Patty, whom I never would have met had Seven Dolars not suddenly shut its doors, propelling all those not-so-innocent Catholic girls into the parentally-perceived perils of public high school.
And had Patty and I chosen any other week to vacation last year, we never would have met Danny and Hans who convinced us that our future as cruisers lay beyond the Hairy Chest contest on the Lido deck and that we should try our luck on a slightly more refined cruise ship.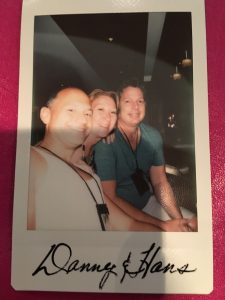 While I will never deny my highfalutin tastes, much of the trouble I've made in life has been with friends in low places. And so, I was somewhat fearful that we had classed ourselves out of a good time. I worried that the people we'd meet wouldn't respond to my friendly interrogations. That they'd cower from my brazen bravado. Cringe as I scarfed down my seventh piece of bread at dinner.  And, that they simply wouldn't get the whole Polaroid picture taking frenzy we'd put them through. (See last year's rendition of Every Picture Tells a Story, Don't It.)
But, as it turned out, once again, the randomness of life worked in our favor.
"Would you mind moving your bag so we can sit down?" the lovely-looking woman with hair as white-as-the-driven-snow asked, having successfully juggled a plate full of epicurean delights through a sea of starving gluttons. Shortly thereafter, her partner sauntered up to the table and suggested they take the table-for-two that had just opened up.
"You can't change tables!" I exclaimed. "It will hurt our feelings!"
And, so it began.
Connie and Laurie, our Boca-buddies-by-way-of-Chicago, became our go-to gals with whom we shared tidbits of our lives over lunch and later through the NCAA semi-final game – both thrilled with the final match-up because one had money on Gonzaga, the other on UNC. We ran into them the whole week long, whether it was when we were getting our steps in on the walking deck, trying our luck in the casino or sipping umbrella drinks by the pool. They were fun, happy human beings, who if they indeed had any, were kind enough to keep their judgments to themselves.
And then there was Susan and her husband, Phil who we met on our first night at sea. We connected over their love story that began at the raucously-renowned Mummer's Parade, knowing that it was entirely possible that Patty and I had been there ourselves that very New Year's Day. We learned that before migrating to Fort Myers, Phil had been a Philadelphia cop. Six or seven bourbons later, we couldn't help but wonder if we'd need his protection as the week progressed.
Much to Patty's chagrin, the only thing I insisted upon (except for getting into the shower first because of my aversion to a steamy bathroom, going to the gym every morning before breakfast, eating both chocolates left on our pillows and getting to cocktail hour three hours before dinner), was that I absolutely had to watch the NCAA finals on Monday night. And, it was imperative that I watch with like-minded folk, rather than alone in the stateroom. After all, UNC had made it to the chip and with all the time, money and energy I'd invested in that school, I wasn't going to risk not celebrating this year's redemption victory. And so, Patty deposited me on a bar stool and went off to lose money in the slot machines. As luck would have it, I got a Canadian on the very stool next to me. Don't get me wrong, I love Canadians, but hey, what do they care about our March Madness? Well, Derek ended up being the most competent of drinking companions. He hailed from Vancouver and was on the ship for a work-related travel convention, without his wife. His wife, who just happened to be a Tar Heel. What, I wondered, were the chances of bellying up to the bar on a night like that with someone from Canada with a Carolina connection as strong as mine?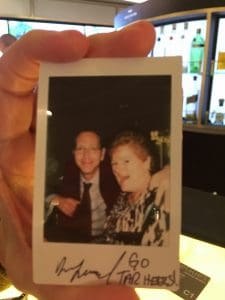 Late, late one night, we met Mike and Dave from sunny California. Their partner-proclaimed trophy wives and above average children had long since retired and we were closing up the casino. In the off chance that you guys remembered us in the morning, please note that I chose not to publically out you for the late night crimes committed.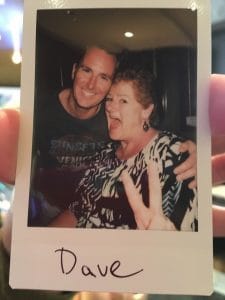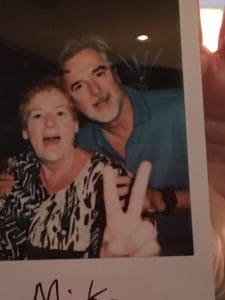 Michelle and Jeff became our bosom buddies. Seasoned travelers, experienced drinkers and daylong sun worshippers, they never once snapped at each other, at least not when anyone was looking. They're the funnest of fun, so clearly proud of each other, their marriage and the three children they left at home to fend for themselves. Quick on the draw, they matched Patty wit-for-wit and never once shied away from my personal cross-examinations or chided either of us for our many indiscretions.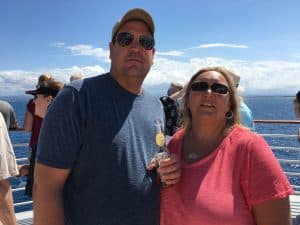 Then we befriended the mother-daughter tag team of Julie and Kate. Julie goes on as many cruises as she can muster in a year — one with one daughter, one with another and one with the guy she married. I couldn't get her to admit who her favorite cruise partner was, but she alluded to the fact that both Maggie and Ken are just as much fun as Kate. Kate is a refreshing burst of mid-twenties energy and Julie, sweet as she is, has a really fun edge to her. Julie walks dogs for a living, so you know she's got a big heart. And Kate crunches numbers, so you know she's going to get her fair share of the shipboard credit.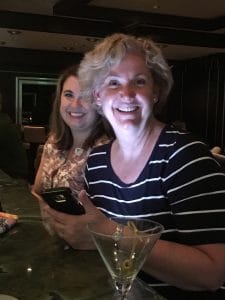 At the Sunset Bar we sidled right up to Aymen and Maddy, two adorably amiable 30-somethings. Besides having job envy over Maddy's career in which she counsels and coaches high school kids, we fell in love with her and her quick-smiling spouse for talking and laughing with us as if we were their peers, rather than the little old ladies that we are.
And then there was the happiest couple on board. We picked them up one night at dinner, swept them into the fold of our friendships and bombarded them with wedding, babymaking and all other kinds of personal questions. The lovely Lori and her mate-to-be Mike just laughed and laughed, bringing genuine love and joy to the table.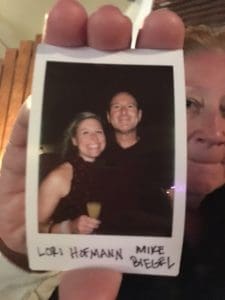 Speaking of Joy, we can't forget her and her husband, Don. They were given absolutely no choice but to break bread with us that night as we dined on grilled lobster and steak under the stars. And though we never saw them again, we know we're deeply imbedded in their memories.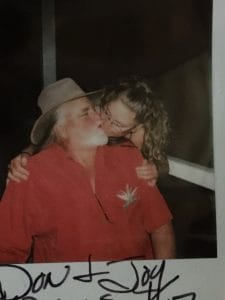 And we can't forget the handsomest couple on board, Michael and Matthew who came from Atlanta-by-way-of-Connecticut. We didn't meet them until the second-to-last night but once we did, quickly discovered what we had been missing. Open and honest and funny they put it all out there, offering up details on the making and rearing of their wonderfully smart, happy and independent six year-old son, Jacob, who happened to love the Kids' Club more than any other kid in the history of cruises.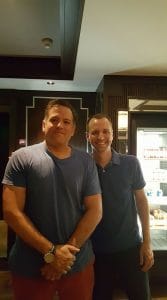 Of course there were more. Jimmie (with an ie), the couple from Charlotte to whom I offered a daughter-in-law, Theresa and her tuxedoed husband, Maggie (aka Rachel) and the Yeti dude, Rick from Kentucky who stood me up for the championship game and the older couple from Oregon who took their team's loss as a vacationer should. There were room stewards and butlers and servers and bartenders who showered us with way more attention than we deserved.
When I got home to real life and my ever-loving spouse, he naturally asked about St. Kitts and St. Maarten and San Juan. But I didn't have much to say. Sure, the scenery was breathtaking, the weather perfect, the food delicious, the islanders friendly, the drinks strong.
But all I could think about were the friends that we had made. The pure, unadulterated randomness of who and how we all met. And that of all the cruise ships in all the ports, in all the world, these are the people who walked into mine.
Here's looking at you kids, here's looking at you.