I was once the Queen of Cards. Before iPhone calendars and alerts, I had a little book in which I recorded everyone's birthdays, checking off names after I had sent out their card. I orchestrated mailings for arrival on the big day, or maybe one day before, but never, ever late. Unless of course, I did it purposely so I could send a belated birthday card that had a sentiment perfect for the recipient.
Christmas cards were no exception. Every year, I'd go out the day after Christmas and scarf up the last of the clever cards, for half the price, to send out the following year. Every December 19th, I'd mail them, often addressing the envelopes with green and red calligraphy pens. Once I had kids, I did what so many other proud parents did. I started sending picture cards of the three little rascals poised on the living room couch with teeth-clenched smiles.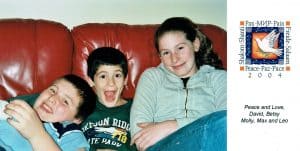 And just about the time when I stopped sending those picture cards (click here to read about the last Christmas card), I decided to make a statement and stop with cards altogether. I used the exorbitant cost of a Hallmark sentiment as an excuse and now factor that money into the cash gifts I give. For instance, I no longer write a birthday check to my niece, Olivia, for $500 dollars. It's now $504.98. (Just checking to see if the other kids are reading this.) And every now and then, if it's a special person, a big birthday or a really happy wedding celebration for which, if I did still buy cards, I'd purchase one of those ones that sing, I'll factor in an additional $7.98.
That being said, I really, really love getting Christmas cards. I look forward to my annual look at Tommy Landers with all those pretty sisters; Danielle D'Onofrio with all those handsome brothers; Ben and Ruby Mather, from their vacation spot-of-the-year; the Monaco menagerie, always showing just the right amount of goof; the Sexton's with their stories of their year; the Klingner's oh-how-they've-grown photo and the Santostefano's who must be having trouble getting the dogs to pose (the canines, not the daughters), because it's getting late and they've yet to show up in my mailbox.
This year on snap-happy Thanksgiving afternoon, I found myself recalling with mixed emotions how that would be always the official day on which I'd start the weeks-long process of posing the kids for the perfect Christmas card picture. I'd take a roll of film, or two, to CVS the next morning and excitedly pay the rush fee to get the photos developed overnight. Sure enough, one of the kids would have their eyes closed or tongue out or middle finger up. And I'd have to start all over again, eventually settling on a less-than-perfect picture. Then, right when things got less complicated and iPhone cameras became commonplace, I stopped sending cards altogether.
"Let's get a family photo!" I chirped, stuffed with turkey.
I waited for the groans.
I waited for the excuses.
I waited for the protests.
Instead, they all got up and went outside.
And we got the perfect picture.
Perhaps there's another one from years gone by, squirreled away in a big plastic container in the bowels of the basement. Or perched on the grandparent's bookshelf in a drug store frame. But I'm not completely sure that there's a photo of all five of us together. And certainly, not one with all of us looking like we actually like each other.
So, from all of us to all of you. Here's your long-awaited holiday card.
May your Christmas be merry, your family be happy and your New Year be filled with Peace, Love and Joy.