"Planning my funeral," my friend Patty (aka Penny) texted the other night. "I'm making a CD even though I'm sure there won't be any CDs by the time I go. Keep this list for when I croak."
Among the perfectly appropriate songs she chose were The Long and Winding Road, Stayin' Alive, and Still Haven't Found what I'm Looking For. She suggested a photo montage to go along with the soundtrack.
What precipitated her playlist, I'm not sure. Perhaps it was our Caribbean cruise that is rapidly approaching and the improbable possibility of a Titanic ending. But more likely it just had to do an irreverently realistic outlook on life.
It's easy to be flip when there's no reason to believe that death is imminent. Patty and I both have older siblings and mothers who are hale and hearty. We're not yet the oldest living generation and that makes us feel somewhat safe. But, we've also experienced the painfully premature deaths of close friends and have had enough hospital stays of our own to know that we, too, could be but a breath away from the grave.
Yet, I merely giggled, as I often do when I receive a text from my witty friend. I went about my merry way, not giving it another thought. Until this afternoon when I was well into my second hour of shoveling a foot, that felt like three, of wet, heavy snow while windswept sleet beat down upon my back, soaking through to my bones and leaving icicles dangling from my hair. My spouse was working from home and deeply involved in an intense interview with someone about something sinister and it didn't appear as though he'd be finished any time soon. So, I bit the bullet and headed out into the tundra.
As happens more and more frequently, and sooner than later, I got to wondering how old I have to be to be too old to shovel the driveways, sidewalks, front paths and porches of elderly neighbors. My spouse does the big job for the rich neighbor with the long driveway who rewards us with expired yogurts and dusty bottles of kosher wine. I do the neighbor who rewards us by waving as he pulls away in his cleaned-off silver Toyota. We meet in the middle to shovel out our house and cars when the rest of the neighborhood is done.
As I was silently cursing my kindness and bewailing my arthritic joints, I got to thinking that this could be it. They warn us all the time and I simply laugh it off. But, it could really happen. I could have a heart attack, fall to the ground and be covered with snow long before anyone would come looking for me.
I didn't have a heart attack and I didn't die. Instead, I came inside, wet, tired and frigid, poured an ice-cold Diet Coke and sat down at the kitchen table to thaw. I started perusing our dying local paper, one of four that land on our doorstep every morning. And as I came to the Obituaries, a section I usually flip right past, I found myself reading the highlights of the lives of the deceased. There were plenty of folks who had lived to a ripe old age, some who weren't so ripe and others that were just too darn young to die. But, it got me to thinking, once again, of my own demise and the obituary that would follow.
I realized, somewhat sadly, that I probably don't have enough time left to do anything remarkable. Nor have I had any major accomplishments worth mentioning. Sure, I've had a good life, raised three pleasant children and had more fun than any one person deserves. But, will that be my headline? Good Time Girl Gone?
I grappled with that for a bit and came to terms with a short but sweet obituary. But the one thing I insist upon is that it includes what I died of or from or because of. There's nothing sadder, less fulfilling and just plain wrong than reading about someone like poor Ruby Haskins and having no idea why or how she departed this life.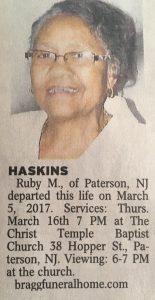 Unless I die from an overdose of m&m's which might be slightly embarrassing, I expect my loved ones to let the world know what finally got me in the end.
I then came full circle and started thinking about the long list of songs that have held my heart at different stages in my life. One day, I too will make my Casket CD. But, if I happen to expire before I get around to it, John Prine's Please Don't Bury Me is the one that will make me smile all the way up to heaven.
Woke up this morning, put on my slippers
Walked in the kitchen, and died.
And oh, what a feeling!
When my soul went through the ceiling,
And on up into heaven, I did ride.
When I got there, they did say,
"Bets, it happened this away
You slipped upon the floor and hit your head."
And all the angels say, just before you passed away
That these were the very last words that you said:
"Please don't bury me, down in that cold, cold ground.
No, I'd rather have 'em cut me up and pass me all around.
Throw my brain in a hurricane, and the blind can have my eyes.
And the deaf can take both of my ears if they don't mind the size.
Give my stomach to Milwaukee if they run out of beer
Put my socks in a cedar box, just to get 'em out of here.
Venus De Milo can have my arms
Look out! I've got your nose
Sell my heart to the junk man, and give my love to Rose.

Give my feet to the footloose, careless, fancy free
And give my knees to the needy, don't pull that stuff on me.
Hand me down my walking cane, it's a sin to tell a lie.
Send my mouth way down south, and kiss my ass goodbye.

But for now, I'm going to get packing for that Caribbean cruise.
And Patty and I will spend a week in the sun concentrating on simply Stayin' Alive.