"You'll just know," my mother told me when I was young and un-in-love and wondering if I would ever, ever find "the one."
My father proposed to her the night they met, three dates later she accepted and three months later they were married. Nine months and six days after the wedding she gave birth to my sister, Susan. My mother loved every fiber of my father's being for every minute of the 49 years they had together. And while they surely had their moments, I never heard them fight. I never heard them curse. I never for one second of my life didn't know for sure that they were meant to be together.
I met a boy in a bar when I was in my mid-twenties. He was cute and funny and smart and just as my mother had promised, I knew. He was definitely "the one." We had an uncanny connection and flirted into the wee hours of the morning. I gave him my number and went home, giddy and positively sure that I would be engaged within the year.
I never heard from him again.
I thought that my mother, who had never lied in her life (except, of course, for the fib she told about what happened to our dog, Fritz)  had let me down.
A few years later I was working at TV Guide magazine and deeply entrenched in a group of friends who worked together, hung out together, had a shore house together, played cards together…and still do. One of the guys had recently broken up with his girlfriend. Someone suggested I date him.  My initial reaction was neither, "Ewww, gross," or  "No, he's too good for me." It was simply, "What an interesting thought. I wonder what would happen to our group of friends if it doesn't work out."
My girlfriend planted the seed in both of our hearts and once I took that leap of faith, I knew my mother hadn't lied to me after all.
I knew. He was "the one."
Thirty years and three children later, I found myself in the midst of another twist of fate love story. Another story of being in the right place at the right time with the right friends.
Julie Claire wanted to go to Sewanee, the good 'ol University of the South. She really did. She told me that the first time I met her. The small, picturesque, private liberal arts college tucked away in Tennessee was everything she wanted. The fact that it didn't have a basketball team worthy of recruiting the likes of Harrison Barnes didn't even cross her mind.
She knew.
But somehow, somewhat reluctantly, she ended up at the University of North Carolina instead. And within a week had found four of her future bridesmaids, all who could have easily ended up somewhere else. Lauren, who grew up in Colorado, was determined to go to college in California, but something sent her south. Molly, from New Jersey was destined for Duke, until she saw it and almost puked. Jenny from Cleveland just so happened to attend a soccer camp on the UNC campus and thought it was a pretty cool place. And Julianne, from another part of New Jersey, as usual, took the road less traveled and chose Chapel Hill over Boston College, her parents' alma mater.
Geographically, religiously, politically, and physically different as could be, the five girls became inseparable.
They knew.
They would be friends for life.
And along with those friends came their crazy families.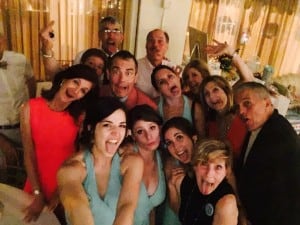 I wasn't planning on befriending the parents of my daughter's roommates. I had no interest in making friends with people I'd never see again after graduation. But, it happened anyway. In yet another serendipitous moment, Lauren and her parents met Stephen and Sandra at the airport on a trip to visit UNC. They live in a big, beautiful house in the heart of the town that soon became our home-away-from home, our local bar, our dance floor and the place we knew our girls would always be loved and welcomed. Stephen and Sandra are our Chapel Hill anchors, the girls' surrogate grandparents and our dear and cherished friends. All of us group chat regularly, commiserate together over stolen NCAA championships, love and support each other's children and reunion once a year at Stephen and Sandra's — all the kids and all the parents. The same ones I thought I didn't need in my life six years ago.
But back to the romantic part of the love story.
There isn't much to it, really. Julie met Joe in the beginning of their sophomore year, and that was it.
She immediately started planning the wedding. And if you think I'm exaggerating, you don't know Julie Claire.
Because she knew. He was the one.
We parents took to Joe immediately and though we love his dashing demeanor, quick smile and humble intellect, all that really matters is that he loves Julie with all his heart and soul.
And so, there was never a doubt that we would all join our friend Ruth in her hometown of Asheville, North Carolina to witness the marriage of her dear daughter to the love of her life. Dan and Sally drove from Cleveland, Joe and Carla flew in from Denver, Tom and Jackie, my ever-loving spouse and I flew in from Newark and Stephen and Sandra drove over from Chapel Hill. Julianne came from Chicago, Molly from New Orleans, Jenny from Cleveland and Lauren from Colorado.
No amount of miles could keep us away.
Every wedding has its own love story. But that's not my story to tell.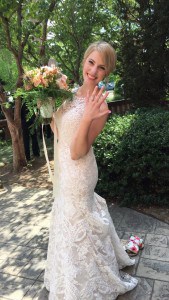 I can only tell the story of what I know first-hand. And that is the story of a beautiful, blue-eyed bride and a handsome, beaming groom surrounded by love on their wedding day. A love so great that their groomsmen and bridesmaids kept their promise to the priest and showed up sober. A love that transcended the tragedy of Joe's parents' home burning down two weeks earlier. A love that had siblings toasting their brother and sister with wit and wisdom and Team Joelie buttons and T-shirts. A love of a mother who painstakingly perfected the bridal bouquets and orchestrated the tedious task of stitching together the most beautiful wedding quilt ever.  A love that included far-flung family members, new-found friends and childhood besties.  A love that can't be described. It can only be felt.
All too soon, the perfect wedding weekend was coming to a close. The DJ announced it was time for the last song. I wondered how we'd end the night. Would it be with Shout? Don't Stop Believing? Donna Summers' Last Dance?
But of course, it was none of those songs.
As the music started, we clamored to the dance floor. Arm-in-arm, tears in our eyes, and some on our cheeks, Stephen, Sandra, Molly, Julianne, Jenny, Lauren, Carla, Joe, Sally, Dan, me, my spouse, Ruth, Jackie and Tom surrounded Joe and Julie with our love and sang at the top of our lungs to what has become our own love song.
In my mind I'm goin' to Carolina
Can't you see the sunshine
Can't you just feel the moonshine
Ain't it just like a friend of mine
To hit me from behind
Yes I'm goin' to Carolina in my mind.
It's where it all began. And where it will never end.
To friendship. To love. To twists of fate.
To the five girls who came to Chapel Hill, wide-eyed and wondering if they'd find what they were looking for.
And now they know.
They did.