"Could you imagine?" I said, holding up a somewhat questionable item that was left right out in the open in one of my unnamed children's bedrooms. "We would have stashed this in the far recesses of our closet covered with dozens of sweatshirts to avoid our mother finding it."
"And the funny thing is," my sister Nancy replied. "Our mother would never in a million years have snooped in our rooms when we weren't there."
"She was a good mother, wasn't she?"
"The best," Nancy agreed.
Nancy was in from Charleston for my mother's 90th birthday party. Nancy is the most capable of all the sisters and so she was put in charge of food and décor for the 50-person party. For some inexplicable reason, I was chosen as sous chef. She flew into Newark on Thursday afternoon and we flew into a flurry, spending the next 48 hours shopping, chopping, dicing, cutting, spreading, packing and laughing as we dug through dozens of photos to find the ones that best depicted our mother.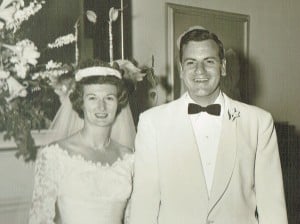 There was the picture of her as a blushing bride. My father proposed to her on their first date. It took her awhile to figure out if he was serious. They were married three months later. Nine months and six days later, Susan was born. Sixteen months later, Emily was born. Eighteen months later, I was born. And then there was a really big break of two years before Nancy was born. Susan had not yet turned five years old when the fourth daughter was born.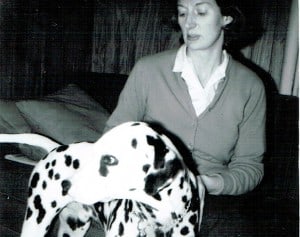 There was a picture of her with Pongo, our first family dog. The one that eventually went to the Dalmatian Farm because he could no longer be trusted around the neighborhood children.
"Sic 'em!" I commanded Pongo from the stone wall at the end of Steve Simpson's driveway. And he did. Soon after, he was gone.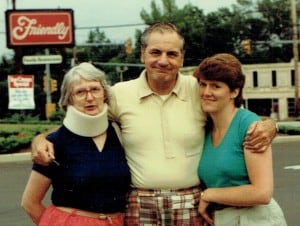 There was the picture of her with a big, wide brace wrapped around her neck. No one, including her, remembers what caused the injury. But it's likely that it happened when she was driving us to softball practice and she whipped around in shock of what was going on in the back of the wood-paneled station wagon. My mother had been an only child and despite the number of children she put forth from her own loins, she was always, always befuddled by the battles between us.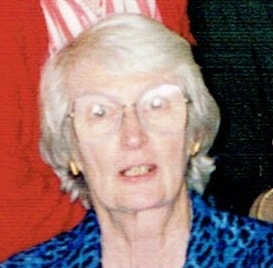 There was the picture of her gritting her teeth in a rare moment of contention.  I don't remember my mother ever yelling at us, or punishing us, though she has different memories.
"Oh, honey, I would feel so guilty when I'd yell at you girls."
I guess that "in one ear and out the other" expression came from somewhere. She had four teenagers at one time for far too many years.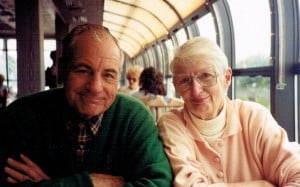 There were lots of pictures with her and my father. He was always beaming at his beautiful bride and she remained smitten until the day he died. And beyond.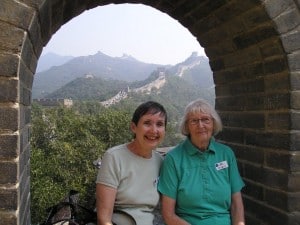 And after he died, came the many pictures of my mother and her cousin Bonnie. In Bermuda, in Russia, in China, in Oregon, in Lake George, as biker babes and swinging singles. Later this week they are traveling together on a river boat cruise up the Hudson River.
My mother is 90 years-old.
My mother has been a mother for 60 of those years.
And she's been as close to perfect as a mother can get.
I am amazed by some of the horror stories I hear from my friends. And when I describe my mother, they think I'm lying.
But I'm not. My three sisters will all concur. My mother never criticized. My mother never demanded. My mother never questioned (aloud at least!). She just let us live.
My mother gave us the gift of independence. She always encouraged our curious spirits and love for travel. All of us have been across the country and around the world and though she certainly must have thought it, never once said, "Maybe you shouldn't spend the money."
She kept her mouth shut when we came home stinking of smoke or suspiciously staggering. She pretended to believe us when we said, "It was Margaret."
She cheered us on as we took chances, with jobs and moves and marriages and never, ever said, "I told you so." Instead, she welcomed us home with warm hugs and patience. Waiting, oh so patiently, for us to move out again.
And when we did, she reminded us of what was important. She cross-stitched me a plaque that hangs proudly in my kitchen:
A clean house is a sign of a misspent life.
Another sister has one that says:
A good laugh is sunshine in a house. 
She gave us hope. That we'd fall in love. Find our niches. Own our own businesses. Not go bankrupt.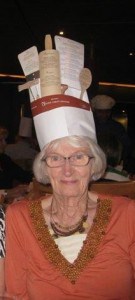 She bestowed upon each of us a sense of style and creativity. Some more than others. She taught us to give back. And we all do. Whether it's reading to the blind, feeding the homeless, working with at-risk middle-schoolers, tutoring children or serving on odious committees in various venues, that volunteer gene sunk deep into our souls.
She taught us that God was there when we were ready for him. We sat by her side, fidgeting in the front pew at St. Thomas' Episcopal Church week after week, year after year, while our father worshiped his god on the golf course. We went to Sunday School and youth group and never missed the annual church country fair. But once we left for college, we were on our religious own. She never preached or judged but she clearly prayed.
But, perhaps the best thing she ever did was give us sisters. We pinched, we poked, we pulled plenty of hair. We attacked. We provoked. We took our time in the bathroom and stole each other's clothes. We bullied and brown-nosed and tried to win the favorite child award. But my mother wasn't capable of having a favorite. Instead, we've all become each other's favorite.
Happy 90th Birthday!
 You done good, Mom. You done good.