"Will all of you witnessing these vows do everything in your power to support Alexandra and Nate in their marriage?" the handsomely personable pastor asked at their wedding last Friday night.
In unison we all responded, "We will!"
Which got me to wondering, how in the world, living worlds apart, am I going to do that? I lost what little power I may have had over the bride when our Friday morning play group dispersed and I could no longer withhold bagels, apple juice or Barbie dolls. But what was I going to do, say no?
Meanwhile, the handsomely personable pastor, who actually knew the beautiful bride, relayed to us the story of Alex's first triathlon. Having a bit of anxiety about being out in the open seas, Alex wasn't particularly happy about the swimming part of the event. But, stroke-by-stroke she persevered, keeping her mind on the finish line which was marked by a green buoy. And later, having survived the challenge, she told the handsomely personable pastor how Nate is her green buoy in life. He is her safe place; the one who is always beside her when she's feeling scared or anxious or unsure. And also the one who is there to have and to hold when she finishes the race.
This, of course, elicited a collective pull at the heart strings.
It was a one-of-a-kind wedding held at Race & Religious, a venue named for the cross streets on which it has stood for almost 200 years. It was a one-of-a kind evening, with clear skies and low humidity, an anomaly in New Orleans.  And they were a one-of-a-kind couple; he from north of Albany, she from west of Manhattan, who met at Tulane, fell in love, got a dog, moved to Houston and boomeranged back to tie the knot in the place where it all began.
The very nature of New Orleans propagates a Big Easy kind of fun. The live music. The dive bars. The killer cuisine. The southern drawls. The overt overindulgence. So, even if my daughter didn't live there, I wouldn't have hesitated to travel the 1,300 miles for Alex's wedding. Besides, I happen to like the bride; her parents, Dianne and Tom; her sister, Ianthe; and the party they throw every year at Christmas.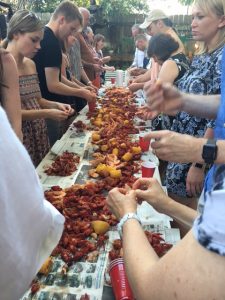 The night before the wedding, the mother-of-the-bride's sister and brother-in-law, who conveniently live in New Orleans, hosted a crawfish boil in their backyard. Something I would never in a million years endeavor to do. Henry and Cecilia have a hip and artsy style about them that perfectly complements their southernly hospitable personalities, setting the tone for a fun-filled, fish-peeling, cross-talking kind of a time. We drank bourbon slushies with the bridesmaids, grinned as the groomsmen recovered from their night-befores, and befriended friends from myriad walks of life. There were the lake house friends; Lisa and John (who kindly didn't mock my extra-cup-of-ice-on-the-side issues) and their wise and wonderful offspring, the beauteous Becca who I may or may not have previously chatted with on my last food truck stint. There were Dianne's three sisters and representatives from each of their families who had traveled from places as far as North Dakota. There were the Tulane friends; Blake and Dylan and Elizabeth who won my heart by remembering my name. There was Emily from Teaneck who I hadn't seen in years and years, and of course, our next door neighbors, Ted and Kerri, part of the original playgroup and the Christmas party elite.
As was expected, we made and retained friends at the wedding and the next day went to ultra-cool Bacchanal – a bar where "food, music and culture collude," with the amiable Anna and her mother, Michelle. At this one-of-a-kind 9th Ward destination, you enter through a wine store, choose your bottle, grab a plastic bucket, fill it with ice, dunk your bottle in the bucket, pick up some glasses, find a seat in the outdoor courtyard, listen to live music and drink to your heart's content, knowing that there's always an Uber just around the bend. That afternoon we consumed copious amounts of wine with Paul and Paula, who serendipitously joined our table and soon became fast Facebook friends with whom we shared life stories and later an Uber to Frenchman Street for a night of jazz.
It's been a week since the wedding. Nate and Alex are far away on a honeymoon. Their parents have returned to their lives and their bills. The guests are back at home, back at work, back doing what it is we all do. And I guarantee, in the week that has passed, every single one of us has thought about that wedding weekend more than once.
While most of my ruminations tend to revolve around raucous reveries, I gave plenty of sober consideration to the handsomely personable pastor and the promise we made to support Nate and Alex in their marriage.
Which, in turn, brought me back to the buoy.
Perhaps for Emily, her buoy is that baseball-loving boy with the country band name. For Kimmy, it may be the handsome dude she met at another wedding with another cast of characters. For Paula, it may be her namesake, minus the A. For Anna, it may be the one who gave her refuge from the rodents. For Rita, it may be that same ol' guy she's been with for 67 years.
But, not everyone has a significant other. And not everyone's significant other is their buoy.
And so I got to thinking about other kinds of buoys. Maybe Becca's buoy is her horse and the hurdles they've jumped together. Maybe Ianthe's is the land on which she's living and tilling. Maybe Molly's is the inner-city kids she's teaching. Maybe it's a dog. Or a job. Or a song. Maybe it's a Maverick. A bicycle. Or a sculpture. Maybe it's a sister. Or a garden. Or a God.
And maybe, just maybe, as friends and family gathered together for the very fun #kreweofcostello wedding, we were, each in our own unique way, a little buoy in a big sea of celebration for the bride and groom. To have and to hold from this day forward.