"Sure you don't want to come to the game?" Tom asked, peering over the rim of his hot and spicy Make-it-Yourself Bloody Mary.
It was Saturday morning in Chapel Hill and I was hanging out in the Carolina Inn with Julianne, her parents Tom and Jackie, and Lauren's dad, Joe. They were pre-gaming for the UNC-Delaware football game. My daughter and the rest of the crew were prepping for future hangovers back at Sandra and Stephen's house on Franklin Street.
I was simply biding my time.
It was pouring rain.
"There's no way I'm sitting in a monsoon to watch a sporting event. I did that too many times for my own kids. I don't have to do it ever again," I said.
Which led to the inevitable question of when is it acceptable to leave a game before it is over?
"Never," Tom said and launched into the story of being a boy scout at a Yankees game, leaving early and missing a grand-slam type of finish.
"That's where you get it," I said, looking at his daughter. "What's that acronym for the condition you have?"
Julianne looked at me quizzically.
"You know, where you're afraid to miss something."
"Ohh! FOMO. Fear of Missing Out."
I've always been a FOMO type of girl myself. And for better or worse, our kids seem to have followed in our footsteps.
"YOLO, Mom," my daughter says when I lament over spending too much money on fun-filled weekends.
You Only Live Once.
This comes from the girl who will fly to Chicago on a whim for a concert, join a yoga retreat in Cambodia, jet out to Southern California for a football game, attend multiple Happy Hours a week and ask only half-kiddingly whether I think it's a good idea for her to spend New Year's Eve in Iceland with Julianne.
YOLO, Daughter. YOLO.
It took me a week to recover from the Second Annual Bar Carr Parent Child Reunion at the University of North Carolina. Financially, it will take a whole lot longer.
Julie, Lauren, Jenny, Julianne and my daughter lived together at Bar Carr as undergraduates. The house was on Carr Street. The Bar part is self-explanatory.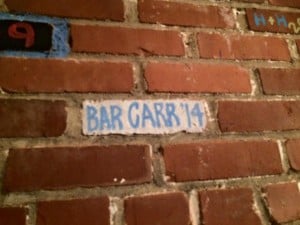 Yet, they all managed to survive college and make the transition into real life. They all wake to their iPhone alarms every morning and go to real jobs and get real paychecks. They are all doing commendable things that require a brain and a backbone. Except, of course, for Jenny who is wasting her time in something silly called Med School.
They came from Atlanta, Washington DC, Columbus, Chicago and New Orleans. It would take more than mere miles to make them miss this reunion weekend.
Because, you know. You only live once.
But, why in the world do we parents come from as far as Denver, Colorado to hang out with our kids in Chapel Hill, North Carolina?
Because, you know. We have a fear of missing out.
We would have missed a lot.
We would have missed kick-starting the weekend with the world's best BLT sandwiches from Merritt's and ending the day with Mellow Mushroom pizza dough growling in our gut.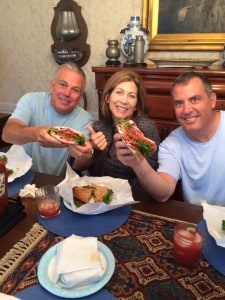 We would have missed toasting the girls' successes and friendships with Fireball-Mixed-with-Apple-Something shots in the Back Bar of Top of the Hill after Julie, the only one tall enough, climbed on a chair to autograph the rafters.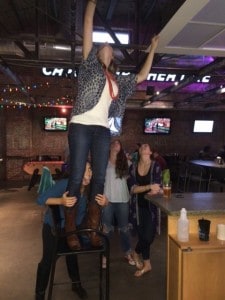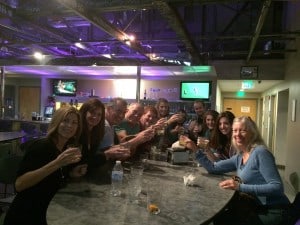 We would have missed out on Saturday night at Sutton's – the iconic drug store / eatery that has become our personal, go-to place for private parties every time we're in town.
We would have missed drinking Maker's Mark from red solo cups with new-found friend Kevin, best buddy of Tommy who reads every one of my blogs. We would have missed meeting Rachel, Tommy's new girlfriend who we love more than any of the others we've ever met. We would have missed Halie who would hold a special place in my heart, even if she didn't know Scotty McCreery. We would have missed Mari who will forever be one of "us" and Dean, her beau who left early to study, but in a FOMO moment of clarity, boomeranged back to the bar. We would have missed Carly who is preciously pretty and gracious enough to spend a good half-hour in deep conversation with a slurry-worded woman. We would have missed welcoming Holly, the Texas transplant and new adoptee of our Chapel Hill hosts, Stephen and Sandra. We would have missed conversing with Carol, ambling with Amber and laughing with Liz . We would have missed joking with Joe who is marrying our Julie and we would have missed the warm hospitality of  Hollie and Don who make Sutton's what it is.
And we would have missed the UNC Clef Hangers.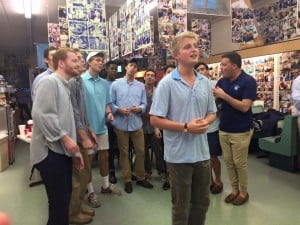 Thanks to Tom, the world's best a capella group now makes an appearance at all our affairs. Our throats got tight when they sang Carolina in my Mind but we roared with laughter when they crooned out Tennessee Whiskey, inexplicably dedicating the song to some girl named Betsy.
We would have missed nightcaps (plural) at Top of the Hill.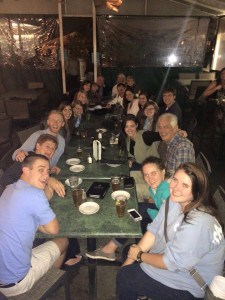 Some of the old folk bowed out shortly thereafter, presumably to rest their weary bones. And while they missed out on seeing one of our all-time favorites, Matt, who appeared on the scene with Adam, his brutally handsome and equally charming boyfriend, we were missing out elsewhere. Little did we know that they were all wide awake on  Franklin Street, dancing, playing the accordion and rocking out to Journey till 3:30 in the morning.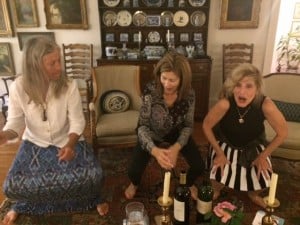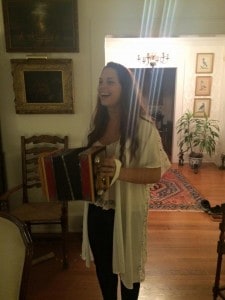 Working hard to get my fill
Everybody wants a thrill
Don't stop believing
Hold on to that feeling
We would have missed a gourmet breakfast with 14 friends gathered around the dining room table on Sunday morning, returning to TOPO for lost possessions and then kicking down the cobblestones as we made one last trek through campus.
But most of all, we would have missed that heart-tugging feeling that we get when we're all together. The happy smiles, the high hopes and the soaring spirits. And the overwhelming sense of pride knowing that as parents we did something right.
You only live once.
Here's to doing it right.