"So, Mom. What are the chances that you'd be willing to give me a $371.16 birthday present?" the daughter asked.
Pretty slim, I thought, considering the overpriced Christmas gifts she received just two months prior.
"And what exactly is this $371.16 birthday present you're yearning for?"  I asked instead.
"Well, everyone is going to Chapel Hill for the Duke game."
Everyone.
We haggled a bit, just because I'm a responsible parent. But, she came out on top, knowing full well that while I'd make her Xerox pages before I would spend that kind of money on say a college text book, I would never balk at the price of friendship. She's heading to Chapel Hill tonight. On an airplane. For the third time since she graduated last May. But, all her friends will be there.
I don't know why friends are so important to me. I used to think it was because I always picked the right ones. But then I realized it must be luck because most of them came to me randomly.  My oldest friend Margaret became my friend simply because I moved three doors down from her at four years-old. We then befriended the rest of the neighborhood, most of whom are still very much in our lives, 50-some years later.
Then came the high school friends, Madge, Debbie, Rachel and Patty, a group that would never exist had Seven Dolars not sent their good little Catholics off to public school. I met great friends (and a spouse) just because I happened to drop a resume off at TV Guide magazine one Tuesday afternoon when my friend Mary Anne and I drove past the building. I have my friends from CNBC because my spouse convinced me that if I just took the position as a secretary for now, I'd eventually get the writing job. I made friends in Teaneck through the committees I joined and organizations I helped run and met still other friends by way of countless hours on baseball bleachers, in basketball courts and at cheerleading venues. I even became a part of an extraordinary group of friends simply because my daughter went to college at the University of North Carolina.
But perhaps the most random of all were the friends I met in college. It was a matter of survival, really. No sooner had my parents pulled away from my freshman dorm in their wood-paneled Ford station wagon that I realized I was alone. All alone.
So, I waltzed I across the hall and demanded the friendship of Chris and Leslie, whose Beatles albums, wine bottle candlesticks and "this is our one and only life – let's live it" attitude was infinitely more appealing than my own roommate's uplifting Hollie Hobbie posters and plaques taped to the cinder block walls.
Shortly thereafter, I barreled into Peggy and Ann's room, literally asking, "Will you be my friend?' They were too taken aback to say no. Later, Jeanne was assimilated into our group which also included another Chris, equally as loveably loony.
Not all of us graduated from that college. I transferred after two years, one of us took a year off, another dropped out all together. But we all stayed friends for the next 40 years.
Leslie is the one who started the All Girls' Christmas Party. The first Saturday in December we would gather at one of our houses for a sleepover. We'd arrive mid-afternoon and be gone by noon the following day. As the years went by and we added husbands and kids, the rule was that the families could be there for a quick hello, but then had to vacate the premises. Once every six years my spouse and offspring would go stay in a hotel for the night or off to visit friends. It was in all of our prenuptial agreements.
About ten years ago, we decided one night was not enough and now the All Girls' Christmas Party has morphed into a three-day weekend in October. We rent a condo or a house somewhere in the prettiness and have more time to catch up and rejuvenate our souls.
We have never, ever missed a year.
It's easy to let friendships slide. There's time and money and breastfeeding babies. There's work and family and home renovations. There's always an excuse to not get together. But never a good enough reason not to.
Getting together with good friends is the best therapy there is. You can talk about your ever-loving spouse and your above-average children and your near-perfect life, honestly and rationally. And your friends will know what's true and what's not. You share your dreams, maybe the same ones you've had for a lifetime, maybe brand new ones. And you gain the strength to go home and love deeper, appreciate more and recognize your life's limitations and liabilities. You make changes. You become a better person. Or at least you try. Because your friends will only encourage you to do what's best.
We used to joke about being 102 years-old, walking the boardwalk, bundled up on a warm Indian Summer afternoon shouting, "What's that? What you say?" and being sacked out by 8 pm. We used to wonder who would be the last girl standing. But we never talked about who would be the first to leave us.
As it ended up, the first one was Chris. She battled small cell lung cancer for almost four years, fighting hard and living her life every day that she could. She wasn't afraid. She wasn't angry. And she never missed an All Girls' weekend. As a matter of fact, we started doubling up on our time together once she was diagnosed.
We came from all directions, driving through the snow for Chris's funeral in Seaford, Delaware last Thursday. We hugged. We cried. But we didn't fall apart. Because there's something about sitting shoulder-to-shoulder in a church pew during a funeral for a friend that gave us the strength and solace to carry on.
And we will.
Friendships may be formed randomly, but there's something very intentional about keeping them alive. Which is why I always say, if you're lucky enough to find yourself thrown into a friendship that matters, spend the money, make the time, book the flight, ditch the family and simply make the effort.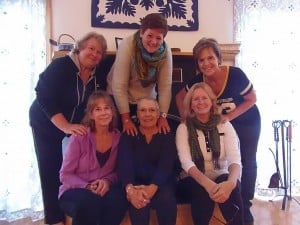 .