"You are so lucky!" groused one girlfriend who shall remain nameless to protect her ruthless husband.  "John / Tim / Roger (fill in your choice of name) would never let me go on a cruise without him!"
I know I'm lucky to have married the man I did. But, I also know I could never have fallen in love with someone who prohibited me from doing anything.
"You know Paul / Sam / Joe just gets so jealous."
I simply laughed. And while again, I admit I'm lucky that my spouse doesn't have a jealous bone in his body, I have to wonder. Is it that he has no fear of me hooking up with a random seaman or is he smiling to himself thinking, "If you can put up with her, you can have her."
Either way, his gracious spirit has blessed me with many, many trips away with the girls in our twenty-four-and-a-half years of marriage.
And so, I'm packed and ready for a cruise with Patty, my bosom buddy since high school.
This will be our fourth cruise together, the third since I've become a cantankerous adult. I like to say that Patty and I travel well together. But the truth of the matter is, Patty has learned to put up with my travel quirks.
Patty knows about my sleep issues.
She knows that I won't leave home without my portable fan to drown out the sounds of her sleeping two feet away from me. She also knows I will bring my own extension cord after once having had to rearrange the furniture due to a plug shortage int he room. She knows that I insist on eight hours of sleep and will cut a night short in anticipation of an early morning.
Patty knows about my acclimation issues.
Although we have exchanged daily texts of excitement, she knows that when we embark I will get cranky about the crowds, bitter about the buffet lines, skeeved out by the miniscule hair found in a remote corner of the bathroom and annoyed at the size of the cabin, despite knowing the room size in advance and having sprung for the junior suite to circumvent aforementioned annoyance.
Patty will then suggest a 700-calorie umbrella drink of the day and I'll respond with one of my many rules.
"I can't drink until five o'clock."
She'll roll her eyes and toss down a shot of tequila to make me easier to deal with until I come around. And I will. Before long I'll be sitting on the balcony watching the waves kick up in our wake shouting, "This is the life!"
And then I'll start making friends with the wait staff and the room steward and the family from Miami who will undoubtedly be placed at our table in the formal dining room. And because it is the late seating, the three year-old will be tired and loud and I'll do my best to provoke his tantrums. After dinner, we will stroll the decks, roaming from the craps table to the piano bar where we will sing "Bye, Bye Miss American Pie" at the top of our lungs even though we hated the song in high school and hate it even more now. We'll take in a comedy show after I adamantly declare how much I HATE comedy shows and I'll do my best not to laugh.
In the mornings, Patty will sneak out of the room at dawn in search of coffee because she knows I hate the smell and would never allow it to be brewed in the room. No bananas either. I'll look at my watch and see that I've only had seven hours and twenty minutes of sleep and wonder if I should break a rule and get up. When I do, I'll head to the gym and fight for a treadmill, give up and power walk around the ship counting my steps until an hour has passed.
Patty will have waited in hopes that I would join her at the breakfast buffet. But since I never eat anything but an English muffin in the morning, off she'll go alone and I'll stoically starve. But before doing so I will debate long and hard whether to purchase an unlimited soda card. I will go over and over the pros and cons until Patty tells me yes or no.
After dipping our toes in the pool, losing 20 dollars on Bingo and walking out of the art auction, I'll start getting cranky. Patty will suggest a nap to which I respond, "I NEVER take a nap."
Patty will roll her eyes and order an 800-calorie umbrella drink-of-the-day (extra 100 calories for an extra shot of rum) at the Red Frog Rum Bar. I will look at my watch and realize it's an hour and thirteen minutes until five o'clock.
I'll think about what Leo said to me before I went away. "Don't define yourself by your rules. You can be anyone you want to be."
"Make it two," I'll say. And we'll click our glasses to broken rules and oceans of fun.
My spouse is also taking a vacation this year. He is going to RAGBRAI.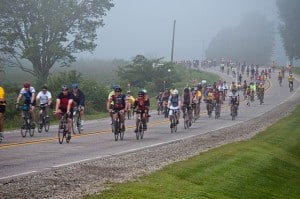 RAGRAI stands for Register's (as in the Des Moines Register newspaper) Annual Great Bicycle Ride Across Iowa. Yes, that is the vacation he has chosen. He and three of his buddies are riding 481 miles across the state of Iowa. In one week. With 10,000-plus other lunatics. They have employed the services of Pork Belly Ventures to carry their gear and deliver it from campsite to campsite. Where they will sleep. In tents. Without fans to drown out the sounds of nature. They will make use of mobile shower trailers. And Port-a-Potties.  It will be 90 degrees, hot and humid. They will ride, rain or shine. They will be given instructions on what to do in case of a tornado.
My spouse does not get bogged down with my kind of burdens.
And so, when my friends say how lucky I am to be allowed to go away with the girls, my ever-loving spouse will be laughing all the way across Iowa. As he kisses me goodbye this afternoon, he'll be beaming with love thinking, "Bon Voyage, Patty. Bon Voyage! If you can handle her, you can have her."