Today is Laura's big, ugly birthday. Her words, not mine.
I met Laura almost twenty-five years ago, back when she was a mere child. For that matter, I was too. I remember the day she barreled fearlessly into the marketing department at CNBC. Robin and I exchanged judicious cross-cubicle glances, sizing up this new blood to see whether she was friend-worthy.
I was way older than Laura. At least I was back then. Years have a way of closing the age gap. She was still in her twenties and I had already passed the big 3-0. I was no schoolmarm, but she had a lot more bravado than I did. She wore a lot of black. She sported a black leather jacket and black boots and black gloves with the fingers cut off. She drove a black Mustang that she held on to for years and years and years. She wore very little makeup and never got her ears pierced. She also liked green because it matched her eyes. She had the same short spiky hair then as she does now.
We played on the co-ed CNBC softball team together. She played like one of the guys. I played like a girl. After all, I was carrying my first baby and didn't want anyone to know yet.
These days, Laura plays ice hockey. She's a female in a male sport on a male team. She doesn't back down. She plays with passion and fury. She plays like one of the guys.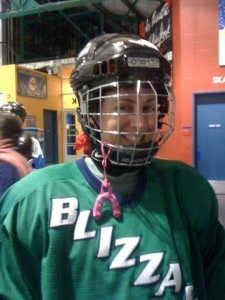 At CNBC, we worked long hours and took long lunches at the now defunct Alfredo's. I always ordered chicken parm sandwiches, "baked, not fried," as if those extra calories would have made a difference on top of that crispy Italian roll smothered with marinara sauce and cheese. Laura may have ordered a pasta dish, but she never ate past the point of no return, and always took the rest home for dinner.
Now days we meet every October at our favorite restaurant, Park and Orchard, to take advantage of Laura's 20 percent off birthday coupon. I order the very hot and spicy Southwest Fire Chicken and scarf it down. Laura orders the Park and Orchard shrimp special, eats a bite or two and takes the rest home.
E-mail made its debut during our tenure at CNBC and Laura and I won the prize, or rather the reprimand, of sending more e-mails than anyone else in the company. Combined.
Laura has continued to be a social media hound. She's my most loyal fan and the first to share my blogs. She's tried and tried to get me to embrace Twitter. Though I speak in sound bites, I over-think my tweets and then retreat. But once when we were watching The Voice together in separate places I got a retweet from Jacqui, one of the screamers whom Laura despised, and I felt validated.
Laura was never afraid of the "stars" at CNBC. Whereas, I would quake at the thought of having to interview the On-Air Personalities in order to write effective marketing materials, Laura knew they were just people who happened to have higher profile jobs than we. To this day she doesn't shirk from hob-nobbing with the rich and famous.
She'll make sure she positions herself to get a photo with Tommy Shaw from Styx (and yes, I had to google him), and has been known to wake up at 4 am (or was it 3?) to see Tim McGraw perform live on the Today Show.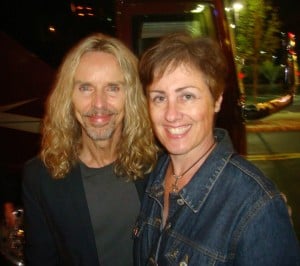 Laura refuses to age. She continues to dance her way through life. Literally. She's currently taking ballet. I'm not sure she wears a tu-tu, but I suspect she can get up on her toes. She has taken swing dancing as well. She acts. Meaning she actually takes part in local theater, getting up on stage and spouting out memorized lines with confidence and considerable character. She has flown through the air with the greatest of ease.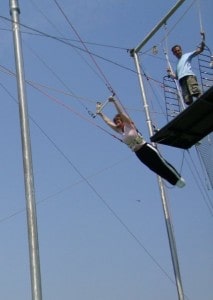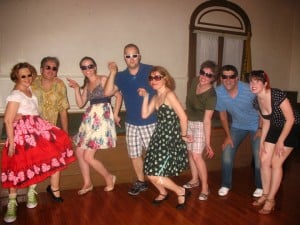 Laura hasn't changed a bit.
Laura plays golf. She loves the beach, Peeps and anything pumpkin. She adores her parents, her friends and her cousins. She loves the Mets, the Jets and the Rangers. She loves being Irish, finding typos and having adventures.
And so, as her friends and family gather this weekend to help her commiserate, I mean celebrate (her words, not mine) her big, ugly birthday I can't help but wonder.
Maybe it's not so much that Laura's not ready for the next decade. But maybe she's simply afraid that the next decade is not ready for her.
Keep skydiving and Rocky Mountain climbing, girl. And may your infectious love of life last another five decades. At least.