Nearly 50 Thanksgivings ago, Mr. Sommerville, father of my first and finest friend Margaret, organized a friendly football game in front of his house on Woods Road. It was quickly decreed an annual tradition to be ever after known as The Toilet Bowl. Every year The Seat of Power, a white toilet seat attached to the base of a discarded golf trophy, is proudly presented to the game's MVP, his or her name adhered to the seat for all of eternity. What was once a simple neighborhood game to entertain the kids, or perhaps a ploy to keep us out of the kitchen while our mothers basted the bird, The Toilet Bowl has taken on a life of its own. Friends, lovers and other strangers have all handled the pigskin, cheered on the sidelines, shivered in the snow and shed sweatshirts on the rare 70-degree turkey days. A post-game wrap-up in the form of food always follows. It started as cold cuts and Charlie Chips potato chips at Sommerville's then morphed into chili and chocolate chip cookies at my sister Nancy's house and is now at Schaeffer's, right where it belongs. It's a final place for friends to gather together on Thanksgiving morning before filtering off to respective family functions.
The Toilet Bowl has endured for decades, surviving the turnover of the neighborhood and the varying degrees of heartbreak we suffered when our idyllic childhoods came screeching to a halt as parents sold our birthrights out from under us. New neighbors, who are not so new anymore, have moved onto Woods Road. And while they may hold the deed to their homes, to us, they'll always be the people who moved into The Sommerville's House, The Hunsicker's House, The Gallagher's House or The Wert's House. Our childhood memories are strong and happy and it would take far more than a blog to capture their true essence.
There is one house on Woods Road that has stayed the same. Upon leaving this world, Mr. and Mrs. Schaeffer bequeathed their humble abode to their favorite son. In return, he promised to uphold an open door policy, providing all family, friends and neighbors a home base for the rest of their lives.
And so, the Wednesday-Night-Before-Thanksgiving tradition was born. It began simply enough – a few of us twenty-somethings sitting around the Schaeffer's kitchen table reconnecting and reminiscing as we sipped Rolling Rocks and scarfed down onion dip. Eventually we got jobs. We got married. We had babies. We moved across the country. But on Thanksgiving Eve, we came back, year after year.
Twenty-three years ago, a potential blip by the name of Richard entered the world just a few days before Thanksgiving. No one thought twice about it; we knew the party would go on. After all, this was the Schaeffer's third child and mother Nancy had long ago perfected the fine art of holding a newborn in one arm and serving Pigs-in-a-Blanket in the other, while toddlers nipped at her heels.
More years passed. More of us had children. Some of us brought our kids to the party and let them run amok until they ran out of steam. Some of us were wiser, leaving them at home with our spouses who would single-handedly feed, bathe, dress and transport three of them from North Jersey to Pennsylvania in time for The Toilet Bowl kick-off Thursday morning. And the wisest of us never reproduced at all.
Despite where we were in our lives, the Wednesday-Night-Before-Thanksgiving Party at the Schaeffer's was an excuse for ten, or twenty or more of us to get together. Over time, more and more friends and neighbors and their offspring have joined the party, blurring the lines between founding fathers and new-found friends.
The kids grew into people. They went to college. They came home from college. They came to the party. They stayed at the party. And somewhere along the line, they trumped as at our own game. They outnumbered us. They out-drank us. They outlasted us.
But they never ousted us.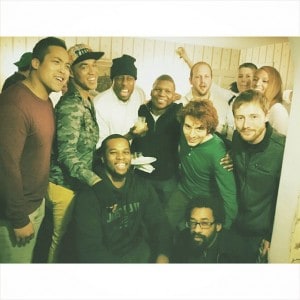 This year, the 30th annual Wednesday-Night-Before-Thanksgiving Party was perhaps the best of the bunch. My sister Emily and I were a little late arriving. Debby, her college roommate, was joining us for Thanksgiving and her train from New York City was delayed. By the time we got to Schaeffer's about 8:30, the house was already full, the food and spirits flowing. The house was alive with celebration. Jarrett and Hayley had recently gotten engaged. Kit and her family were home from Seattle, though sadly, not for good. From room to room, young to old, there was no disguising that familiar home-for-the-holidays, good-time feeling.
When I was a twenty-something kid, I know I wasn't hanging out with fifty-something parents. Sure, Mrs. Bergman may have slipped us the occasional whiskey and Diet Coke before we went off to The Depot, but it was certainly not the norm. On the rare occasions when I had to socialize with my parents' friends, I'd exchange pleasantries, ending the encounter right after the inevitable "Where are you working now?" question.
But, these kids are different. They actually seem to enjoy being with us. On Wednesday night they didn't avoid us, rather chatted us up, telling tales of Penn State and St. Lawrence and Temple. They shared stories about their lives in the Air Force, the Army, the music world and the computer world. They told us about their new jobs at MoMA and their not-so-new jobs in speech pathology. They talked to us like they cared what we thought and made us believe we were still just as much fun as we were thirty years ago.
Taylor chose the tunes, swinging us from arm to arm as we belted out She's A Brick House and Dancing Queen and Can't Get Enough of Your Love, Baby. Kyle bailed early, but Will kept our glasses full. And Kelly, my long-time favorite, gave us a glimpse of what the future would hold.
Kelly was the first in the group to become a mother. Naturally, her adorable 16 month-old son attended the party, scooting across the kitchen floor, charming the guests until he grew weary of the shenanigans. And when he was done, he conked out in an empty room upstairs, just as dozens of kids had done dozens of times before.
And so it began, the first of the next generation of fun.
Meanwhile, down on the dance floor, our generation is reaching the top of the food chain. All but the luckiest of us have lost both parents. We're losing hair and replacing hips. Battling demons and conquering diseases. Retiring from jobs we've loved and quitting jobs we've despised. We've lived our lives, running households, building businesses, caring for the sick and traveling the world.
We've learned our lessons the old-fashioned way. We are old and achy enough to know we can no longer fall asleep on the Schaeffer's couch and toast Thanksgiving morning with a hair of the dog that bit us.
But the kids can.
And they will. Until they can't.
And then their kids will.
As for me, I can only hope that 20, 30 or 50 years from now, I'll still be rocking. Maybe I'll be in a chair in the corner holding Jarrett and Hayley's baby's baby. Or stumbling to the kitchen with my walker, searching for that nice young man who gave me a spoonful of chocolate to help wash my peppermint liqueur nightcap down all those years ago. Or maybe I won't even know where I am.
But I'll be there, one way or another.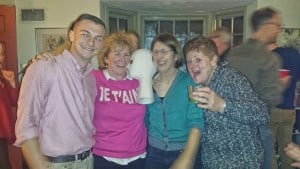 After all, we got this party started.