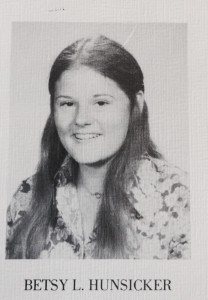 My friend Margaret and I have spent a lifetime making each other laugh. With every passing year we gain fuel for the fire, but nothing ignites our spirits like delving back into our fun-filled past.
High school was one of those blast-from-the-past places for Margaret and me. We had slightly different agendas but our bottom line was the same. It was all about having a good time. She collected boyfriends while I cast my net wider, befriending every pot-head, motor-head, egg-head, thespian, jock and weirdo who would have me.
Between the two of us, we had one foot in just about every clique in the school. We didn't made it to the Homecoming Court or to Nadine Maher's 10th grade sleepover party, but Marion Dugan did. She also got to marry Billy Binder. We wore the same kilt and cleats as Jan Barber on the field hockey team, but while she was scoring goals we were scoring points with the other bench-warmers, cracking jokes and making faces behind Miss Nixon's back.
We never quite achieved Queen Bee status in the groups we buzzed in and out of.  But we weren't the drones either. We got through high school relatively unscathed and went on to lead productive lives, finding kind and stable spouses and raising a trio of offspring a piece. Eternally thankful that our children are reasonable human beings, we are acutely aware that it's just dumb luck that our biggest worry through the years (and in turn, relief) was that our kids didn't have as much fun as we did growing up.
When our five-year high school reunion came around, which was well way before we had met our mates, I was working at TV Guide magazine. Somehow Margaret figured out when my weekly meetings were scheduled and that's when she'd call. These were the days before voice mail, so an actual person was assigned to answer the phones. I tried, but couldn't quite explain why messages like, "Bruce Levy's secretary called regarding the Ex-Lax account." Or, "Lisa Borowitz will meet you at Yum Yum tonight at 7," sent me into convulsions.
I would retaliate with a simple, "Tell her Jim Mooney's girlfriend called."
And so, when I left Margaret the message that Leslie Leidy wanted us to work the door at our 40th reunion, she didn't know at first if the request was for real. But she knew, as did I, that it was the perfect job for us.
I had studied for all our past reunions, but this time I decided to spend as much time cramming as I had in Mrs. Peterson's Consumer Math class. Which meant I was going to totally wing it. I didn't ask for a guest list in advance and I didn't crack the yearbook open until I got home.
We knew that by sitting at the check-in table, we'd get to see every single person as they walked in the door. When we had absolutely no clue who they were, we'd just hand them a pen and say, "Write your name on the name tag."
Then, as they formed the letters, we'd read upside-down and scream in glee, "Kevin Forster!" as if we actually recognized the boy he used to be. Alas, Kevin Forster didn't show. But Angelo Minetti did. And we knew him without even having to cheat.
I kept in touch with a fair amount of friends from Springfield. And thanks to Facebook, I have even more friends than I had in high school. I know I "like" and comment on people's pages who I never liked nor commented on in all my years of high school.
Some of my friends and pseudo-friends had no interest in coming to the reunion.
"Can't do it. I've gained too much weight."
"Never liked those people then, why would I want to be around them now?"
"What if Joe/Tom/Rob (fill in the ex-boyfriend) is there?"
"What in the world would we have to talk about?"
"I don't get it," I said to my bosom-buddy, Madge. "Why wouldn't you come?"
And in the end, that's what made her come. There was no good reason not to.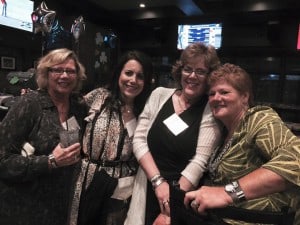 I wasn't a big fan of our prom theme. To my ears, The Way We Were is a droning ballad seeping with sentimental sap. But, as we gathered at MaGerk's Pub on Saturday night with close to 100 of our former classmates, even I had to admit, the lyrics are lovely. A little more appropriate than Bad Company's Feel like Making Love or Janis Ian's I Learned the Truth at 17…
The Way We Were
Memories light the corners of my mind
Misty water-colored memories of the way we were
Scattered pictures of the smiles we left behind
Smiles we gave to one another for the way we were
Can it be that it was all so simple then
Or has time rewritten every line
And if we had the chance to do it all again
Just tell me, tell me, would we, would we?
Could we, could we?
Memories may be beautiful and yet
So many memories too painful to remember
Can it be that it was all so simple then
Or has time rewritten every line
And if we had the chance to do it all again
Tell me would we, would we?
Ah could we, could we?

Memories may be beautiful and yet
Much too painful to remember
We simply choose to forget
So it's the laughter that we will remember
Whenever we remember
The way we were
The way we were
The way we were 
 I miss the way we were
The way we were
Do I miss the way we were?
What's there to miss? We were mean. We were selfish. We judged. We were idiots. Skinny. But idiots. We cared first and foremost about our personal position and popularity. We encouraged cliques and wrote things in our diary like, "Chris Bell came into Yum Yum tonight. I looovve him. He's so cool."
Forty years later, there are no more pimples or pretense. We've all been thrown into this thing called middle age together. We mingled and meshed and rewrote history together, remembering fun times with fun people, or pretending we did. And not a soul there reverted to high school dialogue with a "Can you believe what she's wearing?" or a  "Why is he talking to her?" We met several second wives and heard about many successful children. We never reapplied the make-up we had tucked in our bags and tore off our Spanx half-way through realizing even the best of us had beer guts, love handles and lots of laugh lines. And it simply didn't matter anymore. Because that's just the way we are.
If we had the chance to do it all again, would we?
All I know is that when Chris Bell posted on my Facebook page Monday morning, our friendship felt a whole lot more real than it had 40 years ago.
Yeah, the way we are is way better than the way we were.
Thanks to all who made this happen
and to all of you who stayed away,
we better see you at the 45th!