Thirty years ago I rode in the MS City to Shore 150-Mile Bike Ride. It was 75 miles from Philadelphia to Ocean City, New Jersey and 75 miles back the following day. I rode in this charity event three times and have many fond memories. My soul- and blood-sisters, Mary Anne and Emily were with me all three years, as was my future spouse. Though at the time, he was just a nice guy willing to ride back over the bridge to Somers Point for a case of beer to quench our thirsts and win our hearts. We stayed overnight in slightly better than boarding houses and ate slightly worse than Momma's homemade spaghetti dinners at the finish line. One year, Johnny Schaeffer wiped out on a gravely turn and broke both his wrists. Another year I rode in the pouring rain with bronchitis that, not surprisingly, turned into pneumonia.
And though it was a charity ride, I know I  didn't do it for the cause. I did it just because. I mean, why not? I was young and foolish and fit.
For thirty years I've been dreaming about doing it again.
But somehow things just kept coming up.
It started with three c-sections resulting in three kids and the time consumption and energy expulsion that followed. Halfway through child-rearing I had my left hip replaced which included a two-week rehab at Kessler and a bad bout of C-Diff (look it up, it wasn't pretty). I had pancreatitis that warranted a three-day stint in ICU, the removal of my gall bladder, ten more days in the hospital and several weeks of recovery. A couple years later came the call for a hysterectomy (no complications there, God was just sealing the deal); breast cancer with two little surgeries and one big double mastectomy; then three separate orthopedists' recommendations to have not one, but two bone-on-bone knees replaced (didn't do it). I have arthritis in my spine, a patella that tends to dislocate, a big bunion on my foot and an ankle that throbs after every workout. In thirty years I gained 80 pounds, lost 100 and continue to yo-yo, suspecting I will do so for the rest of my life.
Things could, and undoubtedly will, get a whole lot worse.
So, I pulled out my bicycle and took it down to The CosmicWheel where they spun out the cobwebs, changed up the tires and sent me off with a well-oiled machine, making me promise that they hadn't done the work in vain.
Despite my aching bones, not to mention buttocks, I rode miles and miles and miles. And then one day I googled the MS Bike Ride, saw there was now an option to ride "just" 80 miles and take a bus back home on Saturday night. It didn't take long to convince Emily and Mary Anne to sign up so we could relive our youth together.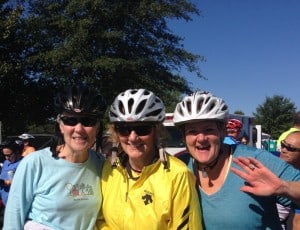 Again. It wasn't about the cause. It was just because.
After lots of wasted energy fretting (see Don't Worry 'Bout a Thing pre-ride blog post), Saturday was perfect, from start to finish. The skies were blue, our moods buoyant, pains Aleve-containable. The route, which starts at a commuter rail station in Cherry Hill and winds through the neighborhoods and beautiful back roads of a state that's gotten a bad rap for massive amounts of malls and traffic, was surprisingly free of road-kill, road-rage and casualties.
Thanks to the generosity of friends on Facebook, I just slightly exceeded the mandatory amount of money required to ride the ride. I didn't knock myself out knocking on doors or begging from businesses. After all, this was my personal challenge, not my personal cause. And though I know a couple of wonderful people who have been stricken with MS, I am honest enough to admit I didn't think a lot about the disease aside from hoping that I never got it.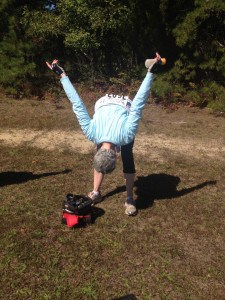 After riding 80 miles over the course of eight hours (which included stopping at four of the five rest stops and one or two pull-off-to-the-side for a quick stretch and a handful of almonds), the words I heard the most besides, "On your left!" and "Car back!" were "Thank You."
At every intersection and turn on the route was a volunteer, police officer, or both. We thanked them and they thanked us. People parked in plastic chairs on their front lawns and held signs that read, "Thanks for riding!" And it seemed whoever we passed would belt out a warm and resounding "Thank You!" Every few miles a SAG wagon would ride by calling out encouragements and checking to make sure we didn't need a hand (or a ride). At every rest stop we were greeted not only with abundant amounts of food and drink but with friendly volunteers who made us forget how far we still had to go and instead focus on how far we had come.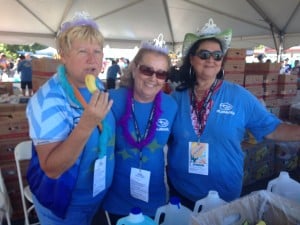 At about mile 76, we hit our first hill. And it was a biggie. Up and over the big bay bridge we pedaled, knowing there was no way, no matter how loud our thighs screamed, that our hearts would allow us to get off and walk. I used my old standby pain diffuser and counted to 100, then 100 again. And again. And again, until I reached the top. Winded and wistful, I looked out over the water and got a little teary-eyed, pumped my fist in the air and said, "I did it!"
A mile-and-a-half later, I got teary-eyed again, but for a different reason. Looming ahead was yet another big, bad bridge to cross. But that was the final hurdle.
In Ocean City we were met by hundreds of people lining the streets, all of them clapping, holding signs and cheering, "Thank you! Thank you for riding!"
And now it's my turn to say "Thank you!" Thank you to all the riders, volunteers, donators, cheerer-on-ers, friends, families and companies who made the day a huge success. Thanks to all those who supported me financially and emotionally. But most of all, I thank the power of the pack. Because that's what made me realize that no matter how hard I tried to make it all about me, the pack just wouldn't let me.
I found I wasn't the oldest or the fattest, nor was I the fastest or the fittest. I wasn't the first rider to worry about Port-A-Potties and parking. And I won't be the last to ride for selfish reasons. I was just one individual pedaling my way down to the shore amongst thousands of others.
But what happens is that individuals build on each other. As they work together toward a common goal sharing their strengths, their talents, their time and their energy, something pretty amazing happens. All of a sudden, even if you're doing it "just because," you get swept up in the cause without even trying, turning your personal challenge into something bigger and better than you ever imagined.
We kept running into a woman who has ridden for the past 31 years. We found her at the finish line and asked to take a picture with her. She doesn't go the whole distance, but she's an inspiration. She makes a difference. And that's what I plan to do. I'm going to keep on making a difference in my own little way, for as long as my limbs hold out.